2444AV and 2444AVL
24" x 44" Print Area
Automatic Vision Alignment
Programmable Squeegees
On Board 10,000 File Storage
Programmable Vertical Lift Speed
Dual PCB Flatteners for Warpage
Multiple Squeegee Clamp Sets
Installation and Training
---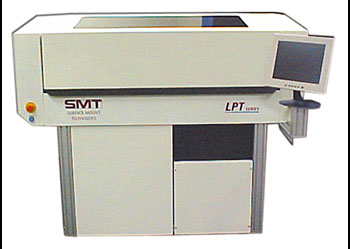 LPT (Large Panel Technology) Series
In-Line, Left to Right Stencil Printers
Models with 24" x 24", 30" x 32", 30" x 38", 30" x 46", and 30" x 60" Print Areas
Windows-Based Operating System
Accu-Lign Series 3 Automatic Vision Alignment
Over 10,000 Onboard Program Storage
Programmable Squeegees
Flexible and Adjustable Magnetic Vacuum Tooling
Wet and Dry Under Stencil Wiper Module with Vacuum
Print Direction is with line flow, minimizing Squeegee Clamp Sizes
Optional Post-Print Inspection
---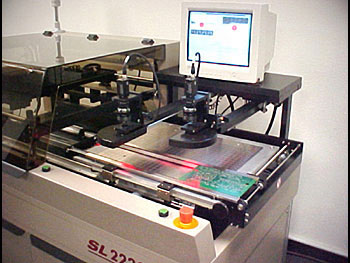 AUL-2220
Automatic Off-Load of the Post Printed Substrate
SMEMA Compatible
Motorized X+Y Correction Standard
Windows Software, including 10,000 program files
Large 20" x 23" Print Area
Motorized Stroke, Pressure & Speed
---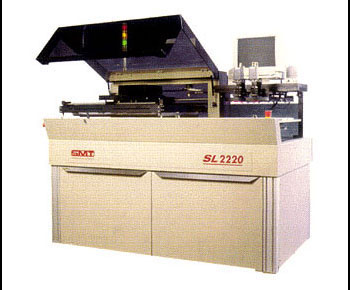 Opti-Print SL2220
Stand Alone Semiautomatic Printer with (4) Available Vision Levels
Universal Magnetic Tooling for 1st & 2nd Side Applications
Windows Software, including 10,000 program files
Optional Motorized X+Y Correction
Motorized Stroke, Pressure & Speed
Optional Auto-Under Stencil Wiper with Vacuum
Large 21" x 23" Print Area
---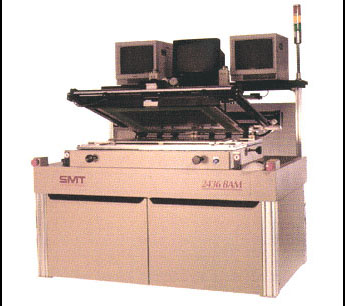 Opti-Print 2444/2436 BAM
Stand alone semi-automatic
24" x 44" or 24" x 36" print areas
Available Universal Magnetic Tooling
Point and click user interface
Available CCTV dual camera alignment
Accepts both cast and tubular frames
---
Opti-Print 2430 BAM
Stand alone semi-automatic
24" x 30" print area
Available Universal Magnetic Tooling
PLC based operating system
Available dual CCTV cameras
Accepts both cast and tubular frames
---
Opti-Print 483P3
Stand alone semi-automatic
21" x 23" print area
Universal Magnetic Tooling
Environmental/Safety cover
Integrated machine stand
11.5" Squeegee clamp set with metal blades
---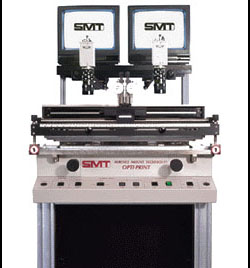 Opti-Print 2020
Stand alone semi-automatic
4 Point frame compensation system
21" x 23" print area
Available Universal Magnetic Tooling
Retractable squeegee head assembly
Available dual CCTV cameras
---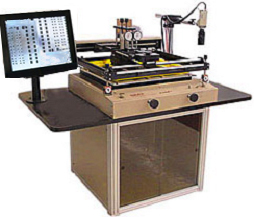 Opti-Print 256V
Stand alone semi-automatic
Universal Magnetic Tooling
Dual palm safety starts
Integrated machine base with storage
16" x 16" print area
CCTV Camera and Monitor
Safety Interlock Switch
---
Opti-Print 256P3
Stand alone semi-automatic
Universal Magnetic Tooling
Environmental/Safety cover
Dual palm safety starts
Integrated machine base with storage
16" x 16" print area
---
Opti-Print 1616PD
Benchtop semi-automatic
Dual independent squeegees
Available Universal Magnetic Tooling
4 Point frame compensation system
Retractable squeegee head assembly
---
Opti-Print 1616PD-F
Benchtop semi-automatic (16"x 16" print area) for lab/prototype or general production
Pneumatic shuttle plate on v-wheels for easy substrate loading/unloading
Pneumatic pop-up cylinders with adjustable separation control.
Great for low viscosity ink, epoxy, or flux applications for ceramic, wafer, glass, flex, & FR-4 substrates.
Custom tooling with vacuum available.
---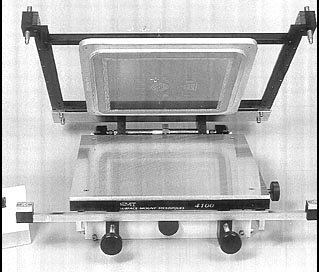 Manual 5100/6100 Screenprinters
Print areas from 20" x 20" to 24 " x 24"
Accommodates cast/welded tubular frames
Optional magnetic double-side tooling available
Hand held squeegee rubber or metal blade
Great for prototype or low volume applications
---

Contact us today and let us send you descriptive literature about our SMT printers, tooling and vision options, and accessories. One of our area representatives will be happy to help you identify the right system for your application's requirements. You may contact us directly or complete our e-mail request form to receive information.